Irrigation is an essential part of keeping gardens healthy and happy – especially for those of us living here in hot, sunny Perth!
Importantly for busy families and homeowners, reticulation systems have also become more and more hands-free, with automation options that ensure your garden is watered, even if you aren't home at the time. Automated controllers give us the luxury of not having to remember watering times, avoiding fines, protecting our water resources while giving your garden the water it needs – without you picking up a watering can or hose. And as a key part of every system, the sprinklers are what regulate the water flow, directing it to provide an even coverage… and a well-designed sprinkler system will also keep the water off walkways and driveways!
If you want a reticulated system for your own property and garden(s) then there are several things you need to consider before you invest. In this blog we will talk about:
What an irrigation system is
The difference between automatic and manual systems
The different types of sprinkler options
How much you should budget for a quality system
and more.
What is a lawn irrigation system?
In technical terms, an irrigation system is an underground network of piping connected to emitters designed and installed to water a specific landscape area. It is designed to water lawns and plants automatically so that they do not have to depend on natural rain to survive and a garden can support more diverse forms of greenery. While we prefer natives and more waterwise plants, a good reticulation system allows for more varieties in your garden design, such as tropical plants, most ornamental plants or even just keeping your lawn nice and lush.
The sprinklers save you the time and energy of standing around watering your garden. The sprinkler system also optimises the use of water, only giving the plants enough that they remain healthy and prevents overwatering of the plants.
Monitoring the water intake of plants is important since Perth is very dry and we have strict watering rules and schedules we need to follow – and a good sprinkler system helps to do that.
Efficient irrigation has four main principles:
The water applied is appropriate to the amount needed to sustain the plants and the soil.
The water is applied with an even coverage
The water is applied directly to the root without water wastage that happens through runoff, deep drainage, and other water loss sources such as evaporation.
The timing of water application is suited to the time of year, the plants and water schedule.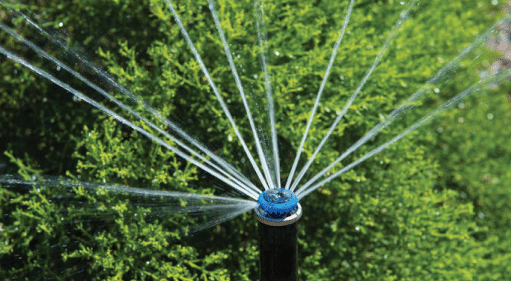 Different types of sprinkler systems: Automatic or Manual?
Before you think about the cost to install an irrigation system, you have to decide whether you want an automatic sprinkler system or a manual system where you have to manually turn on/off each stations individually to control your sprinkler system. Manual sprinkler systems turn on whenever you turn them on by hand but they will require constant monitoring so that the garden isn't overwatered, plus often turning on the sprinkler system slips our mind and then the plants are not looked after properly. Another downside is that to efficiently water a regular size garden using a manual watering system is time consuming (up to 2 hours twice a week depending on the size of your garden and the flow rate and application rate of your sprinklers)
A solution to this is automatic sprinkler systems which are controlled by an automated controller "the brain" of a retic system that once set up takes care of automatically turning on/off each zones at the appropriate time and days. Certain controller systems can detect local weather condition automatically updating the watering regime to make the most of the weather conditions; you can also plugin a wifi module that allows you to monitor and control your retic system from wherever you happen to be.
We recommend automatic sprinkler systems every time – for convenience, reliability, garden health and water conservation.
To help you understand more about your system so you can make better choices, let's discuss the different types of sprinklers and what type of gardens would they suit.
If you get the professionals to install your sprinkler system, like our team at Perth Reticulation Experts, then you don't need to know everything, but being informed will help you understand what goes into your system!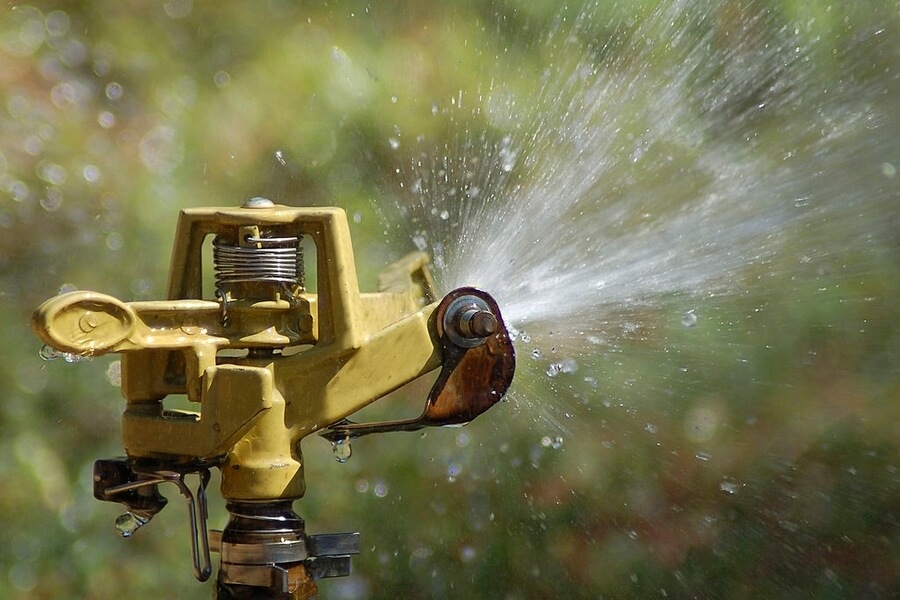 1. Rotary Sprinklers
These sprinklers mechanically rotate while throwing water streams over the garden.. They can be used on all types of lawns and garden but are often used on larger gardens, since they are able to throw water further than any other type, with some being able to reach up to 50 meters. Rotary sprinklers are particularly suited for clay or compact soils because they absorb water at a slower rate and these sprinklers release water slowly so the soil is able to absorb the water gradually. Rotary sprinklers distribute the water evenly and operate in a way that allows for large areas to be covered.. The above are main types of rotary sprinklers, so let's discuss each one.
Impact sprinklers: They are usually made of metal and therefore are long-lasting, but they are typically used in commercial and farm applications..
Gear-driven sprinklers: These sprinklers continuously release water in the form of a stream and turn in a repeated pattern. They can spread water quite far and are well suited for medium-sized and large gardens. These are suited for both residential use and commercial use. It is recommended that these sprinklers should work for 30 to 40 minutes.
Stream sprinklers also called rotary sprinkler: these are also known as multi-stream sprinklers and continuously throw water in all directions. They operate quietly and have a low precipitation rate which is ideal for clay soil, sloped or uneven ground. The drawback is that it doesn't work the best when debris makes their way into the watering system.It is recommended that these sprinklers run for approximately 45min to apply the correct amount of water.
2- Fixed spray sprinklers
This system only sprays in a misting pattern and has a fixed spraying pattern, you can get those in quarter, half or full (some alternative spraying patterns exist but aren't as common) . They are usually a cheaper alternative to rotary nozzles and are more prone to wind drafting making them less efficient.
It is recommended that these sprinklers work for 9 to 15 minutes.
Drip irrigation:
This is not a sprinkler system but is very popular across parts of Australia where water is heavily regulated. It uses small droplets to feed the soil water over time. Systems are usually hidden under mulch where they disappear from sight
The cost to install an irrigation system
As a professional irrigation installation company in Perth, we typically divide the costs into three parts:
1. Initial Assessment to assess the property, gardens and create an install plan – $175-250
2. Professional system installation – quoted tailored to your property. The average install we complete for Perth properties can range from $2k – $5k depending on the accessory you choose and the quality of the parts you wish to use.
3. Ongoing maintenance and system checks – $99 call out, and $100 an hour (charged in 15-min increments) + the cost of any parts.
An automated controller can cost anywhere between $300.00 – $500.00 + GST (depending on which Reticulation Controller is chosen and whether it requires an electrician to change).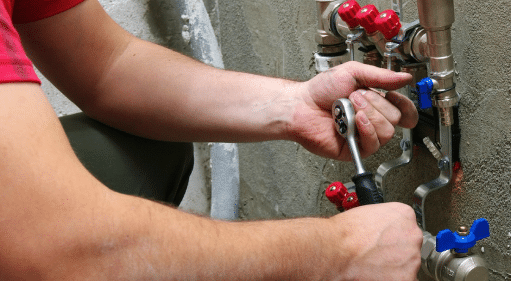 Can you DIY a sprinkler installation?
Hey, we have Youtube and the internet now – you can DIY anything!
But, we think there are certain things that should be left to the professionals. Around half of our repairs and servicing callouts are to fix systems that have been DIY-ed from cheap parts and are already breaking down or not providing the proper coverage. Even to DIY you will spend hundreds of dollars, along with hours of time, so it's worth paying the extra to get a quality system that does what you need it to – and will last!
The professionals cost more and always will, and we are the first to admit that we aren't the cheapest, but our teams are qualified technicians who will install your system correctly from quality materials, designed to give all plants and areas of your garden what they need. You may need to call them for general maintenance and system checks once, maybe twice, a year and that will be it. Calling a professional is worth it in the long run – we know, we see the alternative every day.
If this hasn't convinced you and you wish to give it a go yourself follow the following advises:
Engage someone to design your irrigation system and recommend the right part to use – most irrigation stores offer this kind of services, we certainly do as well.
Avoid buying your parts at large retail stores as they are usually poorer quality and the initial saving on parts will cost you more in the long run.
Avoid using polypipe under constructed structure – poly pipe can be used under mulch or in garden bed but should never be buried to deep, instead use PVC pipe
Install your irrigation system before you install your lawn or plants and before you pave or concrete – trying to do it after can be more time consuming.
What now?
If you need a reticulation system, hopefully this blog has helped you understand more about sprinkler systems and what goes into them. And if you do decide to DIY, we are here to help with repairs and servicing!
But if you do want to hand over your system design and install to the professionals, just contact our team a call to book in your Reticulation Assessment to get your system started.