Professional Irrigation and Reticulation Installation in Perth
Residential and commercial reticulation system installation and design you can count on.  Let our water-wise reticulation systems keep your lawn or garden lush all year round.
Call now on

(08) 6263 4644

or send us a booking enquiry.
Building a new home, planning landscape renovations or needing your old system replaced?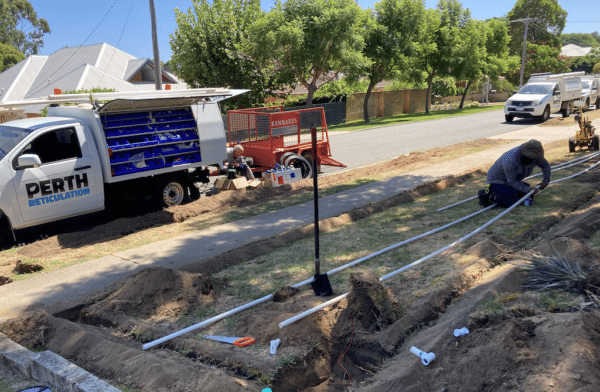 Need a new reticulation system?
At Perth Reticulation Experts we specialise in installing reticulation systems for Commercial and Residential properties. With a new, professionally-installed and automated system, your lawns and garden will remain lush and green all year round.
Two-wire, bore and mains systems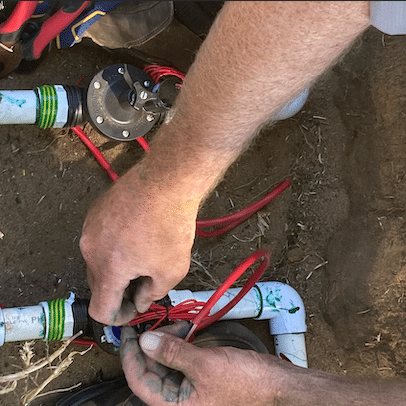 Full Warranty On All Our Work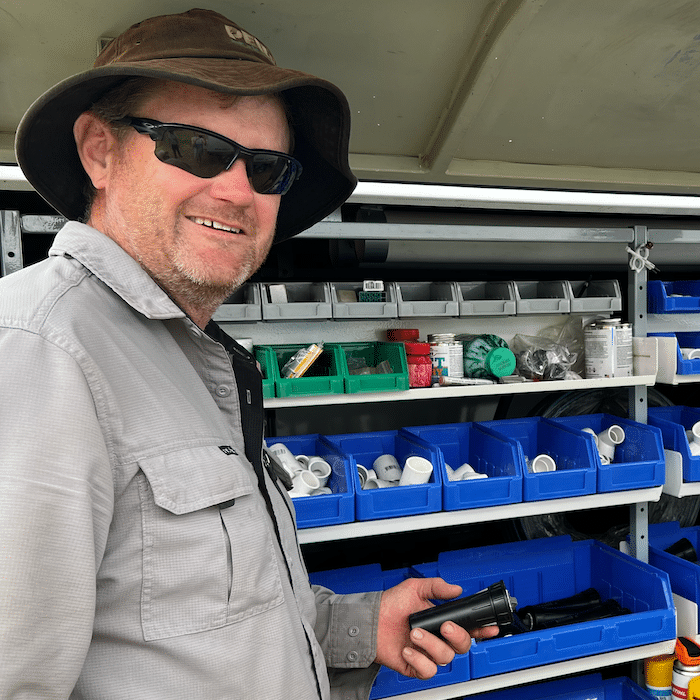 Experienced, Fully-Equipped Technicians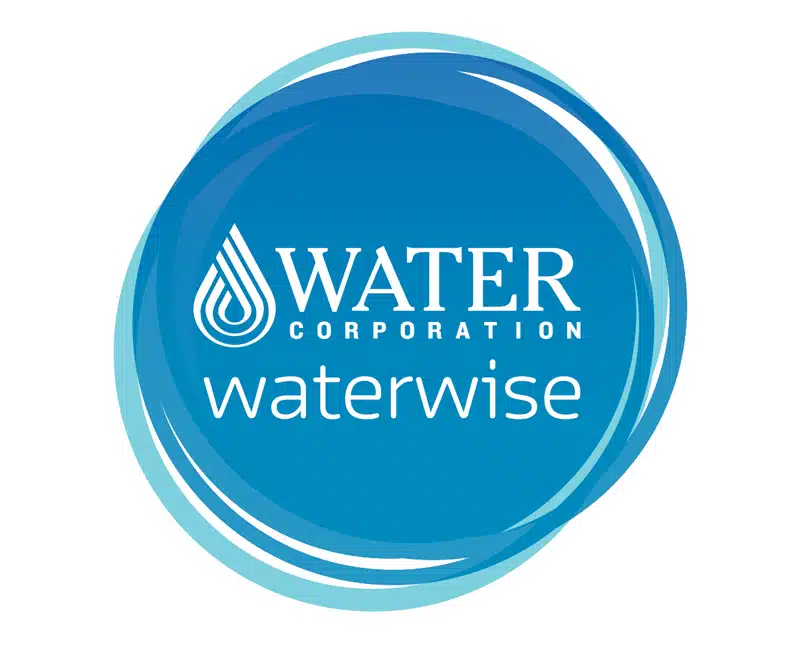 Waterwise Certified For Efficient Systems
Ready for a New Reticulation System?
 Contact us today to book in for an expert assessment of your site to begin your new reticulation installation.
One of our technicians and system designers will conduct an on-site assessment of your property and complete water flow and pressure tests. This enables us to then create a new reticulation system plan along with a detailed quote for your installation.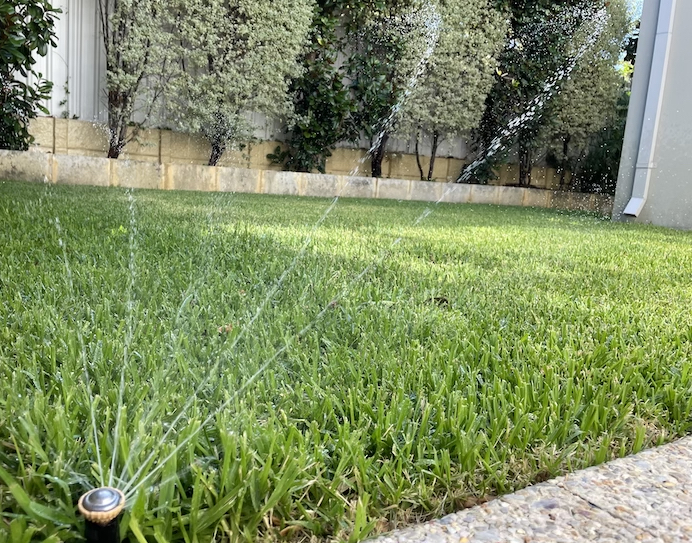 Book your Professional Site Assessment & Quote – $200/FREE*.
*FULLY credited if our quote is accepted within 30-days / travel surcharge may apply if outside our service area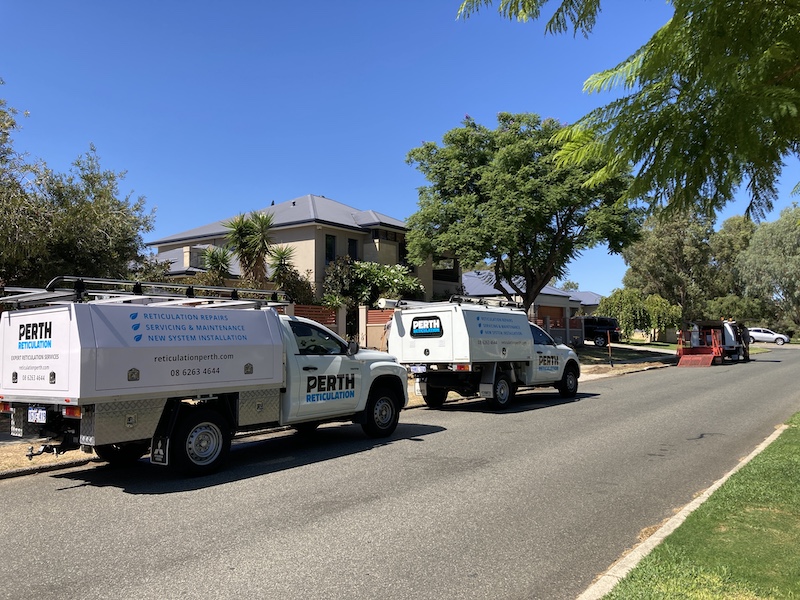 Professional New Reticulation Systems
We offer a range of reticulation systems to suit varying requirements. Regardless of the size and shape of your property, our expert reticulation technicians will install a waterwise system designed for optimal water distribution to all areas of your lawn and gardens.
Our reticulation systems are always water-wise, ensuring for a maximum of water savings for a sustainable, and cost-effective system. You can enjoy lower water bills while keeping your garden looking lush and healthy.
Whether you have bought or built a new home or have been in your business location for a long time now, if you need a new reticulation system installed by professionals – give our team at Perth Reticulation Experts a call and book in for a Reticulation Assessment to get your project started.
Reticulation System Installation
With years of experience, our technicians have the right skills and knowledge to install a water-wise, automatic reticulation system for homes and businesses in Perth. Our technicians have a high level of workmanship and attention to detail, delivering reliable results for every reticulation system installed.
We always use high-quality parts, from sprinklers and connectors to controllers, to ensure a long-lasting irrigation system. Our technicians are also equipped with the latest tools to achieve efficient new installation.
After the installation, our team won't leave the property without giving you a run-through of your new system, along with setting it up so it is ready to go – so you don't have to worry about it!
Using water-wise reticulation systems designed to meet the specific needs of your property, you will prevent common problems like over-spray and dry patches. Also, with a high-quality system, you don't have to worry about a spike in your water bills and costly repair and maintenance services in the long run.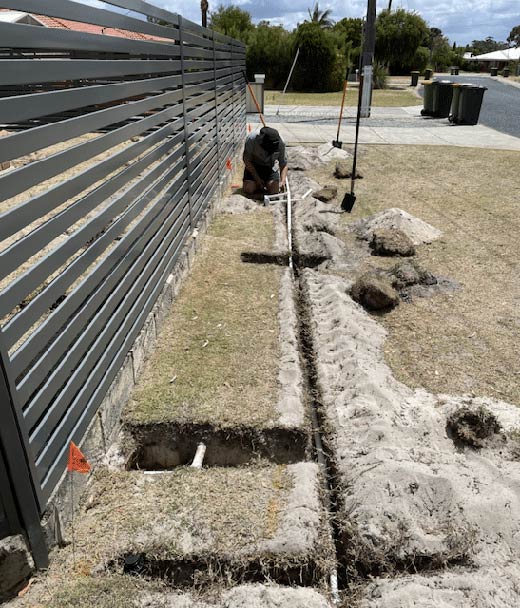 New Reticulation System FAQs
How much does a new reticulation system cost?
There is no real average as every system is different based on the property size, the complexity of the system required, the difficulty of installation (multiple property areas, trenching/digging under pathways and driveways, etc.), and the water pressure rates available.
Prices can range from $3-4k to $5-10k – which is why we don't want to promise anything until one of our technicians has been on your property to professionally assess it. After your assessment, we will be able to provide you with a full quote.
We can say that, if someone charges you less than 2-3k for a full new system, they are either cutting corners and using poor-quality parts or aren't charging enough to stay in business for very much longer! So don't expect them to still be around when you want to claim on your installation warranty…
How do I get a quote for a new reticulation system?
If you already have a reticulation system design, feel free to email it to us along with your water pressure and flow rate test results, and we will be able to give you an initial estimate. You can reach us at info@reticulationperth.com.
If you don't have a design, just book in for a reticulation assessment with us and we will get an experienced reticulation technician out onsite to assess your property, do the pressure and flow tests and provide you with a quote for the full installation.
This will include site prep/trenching, all materials and the labour to install along with a reticulation system plan (after install) so you know where your system is and it makes repairs and maintenance easier in future. 
When is the best time to get a new irrigation system installed?
The winter switch off (1 June to 31 August every year) is the best time to do your big repairs or new system installs. Your garden isn't relying on your system to stay alive and the industry is quieter so it's easier to get the work done and source the supplies required. We always take pre-bookings so you can lock in your spot in plenty of time to make sure that, come the 1st of September, your new system is ready to go the instant the warm weather kicks in and your garden needs it.
Should I get a new reticulation system installed before or after my new lawn?
Before your lawn installation is always the best time to get your system in place – or during your landscaping works (we can work with your landscaper to install your system in the right timeframe for your project).
If your lawn is already in place, we can work around it, you just need to be prepared for sections to be dug out which will need time to grow back in and look good again. We use professional trenching equipment so we can minimise damage to your lawn, but there will always be an impact, so organising your new reticulation system to be installed before your lawn is always the best way to go.
Do you design reticulation systems?
Yes, we can provide a full reticulation system design drawing prior to your installation if required, or we can still plan out and install a full new system without one – it's up to you. After installation, we can also provide you with a professionally drawn up plan of your system for future repairs, or mark the locations on your property plans if provided.
As long as we are managing your project from initial assessment to completion of your installation, we don't need a full plan to work from in order to deliver a professionally installed new system.
Can you install fully automated reticulation systems?
Automated reticulation systems are our standard, but the level of automation is up to you. We can install and program systems with a standard, reliable and automated controller that is set up to run at regular times and days, or we can install the latest WiFi systems so you can run and monitor your system from your phone, just let us know what you prefer and we can create a system to suit.
Do you design and install waterwise reticulation systems?
All our systems are designed to make the most of your available water pressure and run as efficiently as possible. Things like ensuring the right parts are used to regulate the water flow so the system only uses what the garden needs or the right amount of solenoids so the pressure is regulated and won't run longer than it needs to or wear out parts too quickly.
Every system installed by Perth Reticulation Experts will ensure the right amount of spray/water coverage so parts of your garden aren't over-watered – or parts of your driveway or paved areas! We also set up your controller for you so it is watering the right days, times and durations based on your water pressure. We want to protect Perth's water resources while keeping your lawns and gardens green and beautiful!
Do You Need A New Reticulation System?
When it comes to reticulation and irrigation system installations in Perth, you should only trust the experts. With us, you gain peace of mind knowing you have an automatic, well-irrigated garden — without having to pay for incredibly high water bills. Give us a call today to book your professional assessment with one of our qualified technicians and system designers.