New garden reticulation and sprinkler systems design and installation in Perth
Because of Perth's dry, hot summers and water restrictions, it's essential for every property to have a professional installed reticulation system also called sprinkler system.
Here at Perth Reticulation Experts, we specialise in reticulation systems for new homes, landscape renovations, and commercial properties. Using the most durable, low-maintenance and water-wise reticulation products available, we can help you keep your garden lush and green all year round. Read on to learn more about the reticulation installation services we offer.
Irrigation installation
We can install new irrigation systems, tailored to your property. Using water-wise reticulation systems designed to meet the needs of your property, we'll prevent common problems like over-spray and dry patches.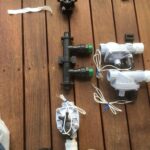 Our process
We first come onsite to have a discussion with you and to find out about your irrigation requirements; we also measure the garden; test the flow rate and water pressure available.
Then we create and design your irrigation plan, our team of senior irrigation specialists will draw an irrigation plan to scale.
We then create a list of parts needed for the job and estimate how long the job will take to complete. All the information is compiled into a quote report which we then send out to you for your review.
Upon acceptance of our quote, we provide you with a start and completion time for the project – we can usually get a job done within 2-3 weeks from acceptance.
On completion of the job, we test the system, set the controller according to the water corporation guidelines and show you how to operate your newly built irrigation system.
Get a quote based on your house or site plans.
Don't think you are ready yet for a visit from our experts or maybe the house is still being built?
Simply email us at masterpiece@perthlandscapinggroup.com.au :
Your house or site plan containing all of the dimensions
A mud map with the location of the garden beds, lawn and other areas needing reticulation
Conduct a flow test and water pressure test
Once we receive your email we can offer you a quote for a reticulation installation based on your needs.
No need for a site inspection! This is a fast and easy way to find out how much your reticulation system might cost.
---
Let us solve all your Perth reticulation problems
Our trained staff will provide an irrigation system designed to suit your garden's specific requirements – making the most efficient use of water while ensuring all areas are adequately hydrated. Our experienced technicians will ensure that your system is installed to the highest standards, using quality products at competitive prices. To find out more about what we can do for you, please don't hesitate to get in touch.
Call us on (08) 6263 4644 or Fill up the form below