It seems everyone is asking about irrigation systems lately, so we've created this blog to answer your questions such as 'what is irrigation?' and what works and what doesn't work?
We'll show you some proven types of irrigation and reticulation, so you can decide what will work best for your garden, your budget, and your lifestyle.
Our insights come from years of helping both residential and commercial clients create gardens that flourish in spite of Perth's fast-draining sandy soils and unique climatic conditions.
Also, now that the watering schedule and rules have changed, Perth homeowners have to keep their lawns and gardens happy and healthy on two watering days a week. So it's never been more important to have the right types of irrigation for your property!
Read on to find out how you too can create your own oasis!
In this blog you will learn:
Why is irrigation important for your garden?
Should I replace, repair or update?
Methods of irrigation
Types of water
How to choose an irrigation company
Is now a good time to install irrigation?
So, What is Irrigation?
Irrigation is watering by artificial means, where natural rainfall is not sufficient for optimal plant growth.
An effective irrigation system makes any garden more water efficient, more productive, and easier to manage. It can help you to keep your lawns green, improve foliage and flowers, and increase your fruit and veggie harvest.
The best watering systems are automated, to minimise effort and ensure watering happens at optimal times.
There are several types of irrigation systems — some water the garden's surface from above, others direct water straight to the roots.
Whether you are looking for a home garden reticulation system or irrigation for a commercial site, Perth Reticulation Experts understand all the options and can advise on what will suit your garden. For more information, you can contact us.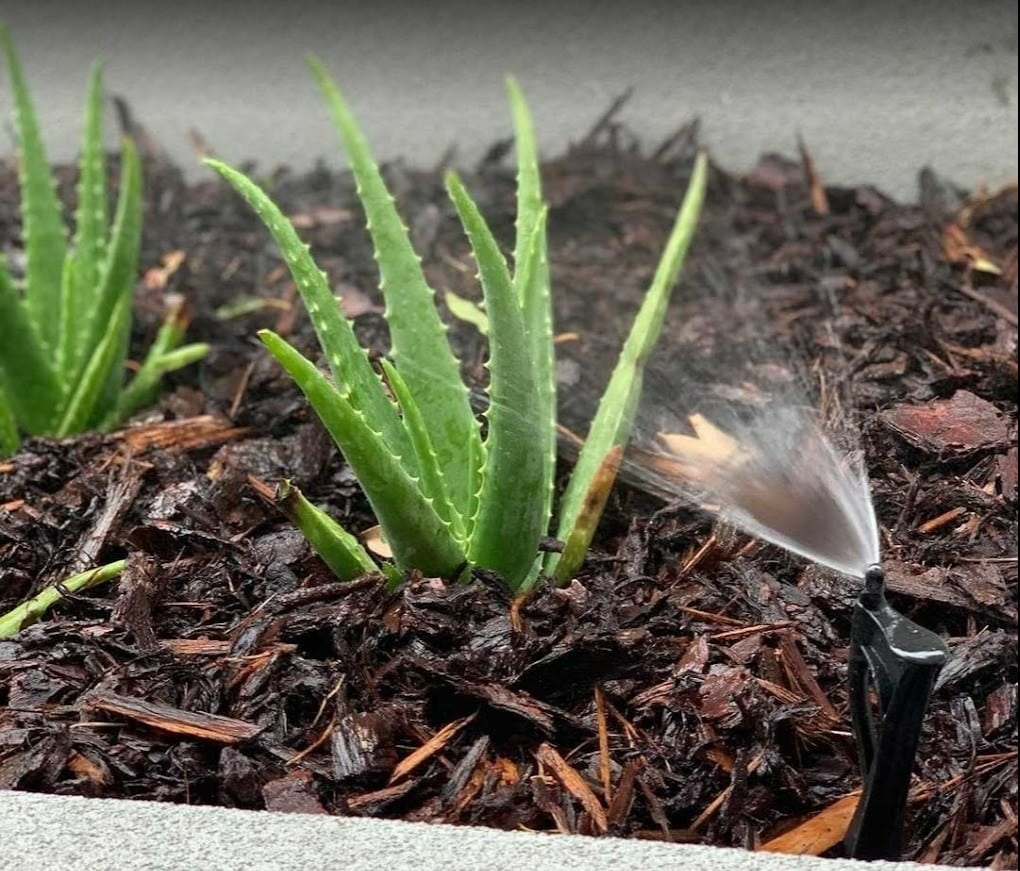 Why is Irrigation Important For Your Garden?
Watering your garden and lawns sounds simple, but is actually time-consuming, and tricky to get exactly right.
While hand watering can be quite therapeutic, we're all time-poor these days and want to ensure our gardens survive Perth's searing summers!
Following our expert tips can make it less like hard work, help to avoid under or over-watering, and save you money.
So read on and consider the benefits!
Saves time
Depending on the size of your garden, hand-watering can be a real chore, taking up many hours every week.
Delivers water when and where it's needed
If your watering system is properly designed and installed, your plants will get the right amount of water at the time when it does the most good (hopefully while you're still snoozing!).
What's more, a professionally designed reticulation system will water your garden, not the street or the pavers!
Saves money
A well-designed irrigation system won't over-water — savings on water costs can be significant.
Many experts believe a professionally designed reticulation system saves up to 50% on water use, by being precise about where water goes, and reducing run-off and evaporation.
Conserves water
We all understand the importance of saving water in Perth, given our dry climate, dwindling underground water reserves, and continuing climate change.
As well as saving money, watering efficiently helps to preserve a precious resource.
The Water Corporation has more useful information about water conservation here.
Improves growth and crop yield
Most plants grow better given small amounts of water frequently, rather than an occasional drenching. This is exactly what irrigation systems do well.
Automated watering systems noticeably improve plant growth and crop yield for edible plants, by giving the right amount of water at the right time.
Preserves and delivers soil nutrients
Water is obviously essential for plant survival and growth, but it is also the way soluble fertilisers and trace elements are delivered to the roots of plants.
An effective irrigation system encourages deeper roots, better nutrient absorption, and improves soil structure.
Heavy hand-watering by contrast can wash away valuable nutrients, encourage unhealthy fungi, compact and deoxygenate soil, and lead to root disease.
Reduces weeds
Because professionally designed irrigation systems only water targeted areas, less weeds grow in other areas. Drip irrigation systems do this best.
Moderates frost and heat
Strategically placed sprinklers can help minimise damage to sensitive plants in frost-prone areas (such as the Perth Hills) used manually, or programmed to operate when temperatures fall below a certain level.
Likewise overhead sprinklers can reduce stress on less heat-tolerant plants.
Aesthetics and property value
An automated watering system adds value to your property, both by helping your garden look better, and by making it low- maintenance.
Delivers water effectively in changing climates/conditions
Automated reticulation is set to deliver water regularly when needed, reflecting seasonal conditions, and local watering regulations.
But what happens when the weather changes unexpectedly?
The most sophisticated irrigation systems allow remote reprogramming from your phone, so you can adjust for an unexpected heatwave, or wet spell.
Smart controllers adjust automatically to weather conditions, using weather data and rain sensors.
For more information on water irrigation and reticulation, here are further resources from the Water Corporation.
Replace, repair or update?
Maybe you are reading this because you have not yet installed a watering system, or perhaps you have reticulation already, but it doesn't work well?
Before committing to any outlay, get some advice from a company that does both repairs and new systems.
Our qualified technicians can handle almost any problem, and will use the latest equipment to carry out a full system evaluation. Then we can help you choose the best solution.
For ways to upgrade or retrofit for effortless watering, see our guide to reticulation installation in Perth.
Methods of Irrigation
Understanding how irrigation methods have evolved may help you decide what will work best for you.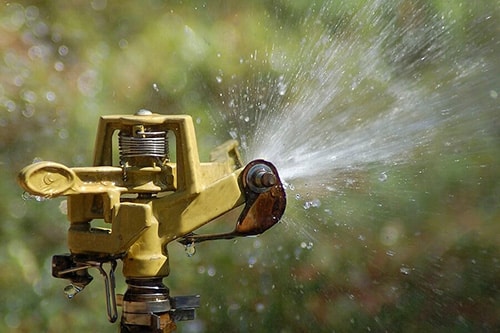 Traditional Irrigation Methods
In ancient times, irrigation methods included manually bucketing water, then gravity-fed systems. Channels, canals, tunnels and aqueducts moved water from waterways to the fields.
From 3000 BC water could be lifted to higher ground using water-wheels powered by water or animals, windmills, then pumps.
These low-tech methods are still used, especially in traditional societies, but can be hard work and wasteful, due to evaporation and run-off.
Modern Irrigation & Reticulation Methods
Technology has made modern reticulation methods more water-efficient, and easily customised to individual gardens.
The three main types of watering systems used in Perth gardens include:
Sprinkler Systems
There many types of sprinkler, including:
gear-driven sprinklers — continuous water-stream, repeat-pattern rotation, wide watering spread — suit large gardens
rotary/multi-stream sprinklers — multi-directional spray, precise, wind resistant — good for many applications
fixed-spray sprinklers — fixed spraying pattern (quarter, half or full circle), economical, not as efficient — various applications
suspended misting sprinklers — inefficient in windy conditions but useful in greenhouses and where plants need light watering/humidity
pop-up sprinklers — suit lawns / nature strips
impact sprinklers — durable metal sprinklers, need strong water pressure — used in commercial/agricultural sites.
It is important to choose your sprinklers with the following in mind:
water type
water pressure
sun exposure
height and type of plants
durability/quality.
Using the same type/brand of sprinklers throughout each zone is recommended for optimum performance.
Drip Systems (Micro-Stream Drippers and Shrubblers)
Drip systems are customised to your garden to deliver water slowly and accurately. Flow is adjustable by changing water pressure.
Drip emitters are precisely spaced over root zones for deep water penetration.
These systems are the most water-wise. Plants are watered from below, keeping leaves dry, and reducing fungal growth.
Drip systems have a pressure regulator, backflow valve, and filter. The multiple components and more complex installation make them a little more expensive, but drip technology is still the preferred choice of many irrigation professionals.
Soaker Hose Systems
Soaker hose systems are an alternative subsoil watering system, often used where water efficiency is desirable, but a drip system is outside the budget.
They have few components — pressure regulators are not necessary — so are relatively inexpensive both in terms of parts and installation.
The hose is either porous along its whole length, allowing water to seep out slowly, or flat, with holes on one side that act like a sprinkler.
Types of Water
The type of system used may sometimes depend on the water source.
Scheme water
Scheme water is the simplest (but most expensive) option. It is clean, and usually has no particles, so suits all types of watering systems.
Bore water
Perth bore water is usually fit for garden use, but may have particles or be unsafe in some cases. Professional testing to ensure safety is recommended. Some types of sprinklers don't suit bore water.
Before installing a bore, check the Perth Groundwater Atlas for groundwater conditions in your area.
Greywater
Greywater — wastewater from bathrooms and laundries — can reduce use of treated scheme water.
Not every property suits greywater use, but it may be worth investigating. Greywater contains nitrogen and phosphorus, a benefit given WA's nutrient-poor soils.
It is the most complex option. The two main methods used are either:
a Greywater Diversion Device — untreated greywater goes directly to the garden, usually via subsurface or substrata drip irrigation (this prevents contamination) or
a Greywater Treatment System — this makes greywater safe for above-ground use (e.g. sprinklers).
Greywater use is regulated, so get expert advice on installation, licences and approvals — for more information, check out the Department of Water and Environmental Regulation website.
How To Choose An Irrigation Company
We all have our own ways of choosing who we do business with — but here are some of our tips on what to look for when sourcing reticulation services:
check websites — check years of experience, testimonials and online reviews
look for experienced specialists with professional qualifications and the equipment to measure water pressure
look for someone willing to prepare a detailed design plan
check reviews of products they install
ask about after-sales service and warranties
choose someone who listens and understands your priorities!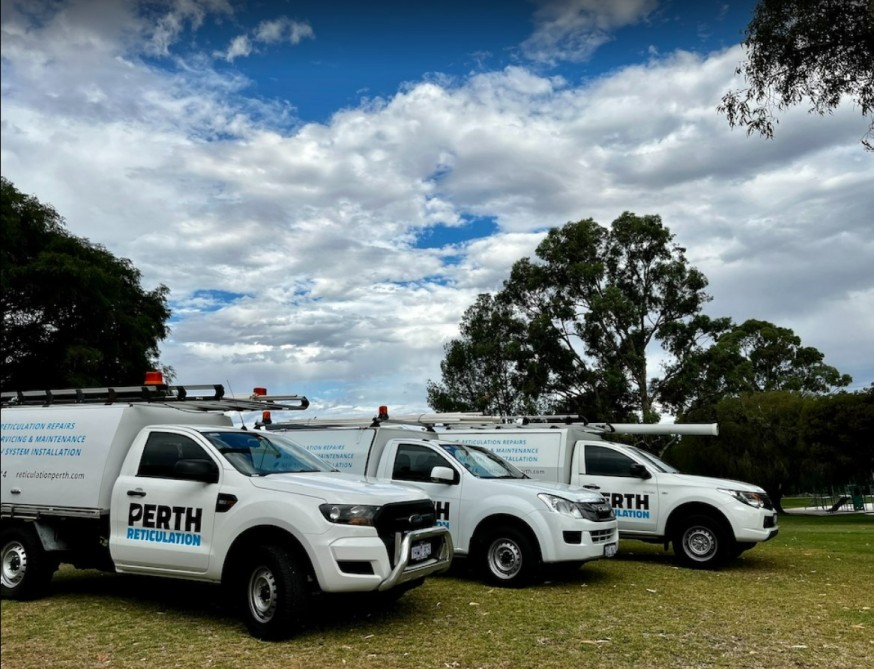 So is now a good time?
Now is a great time to start planning what you need. Spring and Summer will be too busy for most companies to do the full system installation work, but you can get organised, budget and pre-book for Winter to put yourself at the front of the queue.
For expert assistance with your residential or commercial reticulation needs, call us today on (08) 6263 4644 or contact us at Perth Reticulation Experts — let us help!