Bore pumps are an asset to many homes around Perth and deliver precious groundwater to our lawns and gardens. Unfortunately, problems can occur, especially when pumps are not installed or maintained correctly. This is where bore pump troubleshooting comes into play.
Getting your water bore system checked regularly – even during Winter – ensures that these problems can be addressed quickly by professionals. With the correct diagnosis and expert solutions you can minimise further damage.
Water Bore Pump Troubleshooting
With some early water bore pump troubleshooting we were able to save both a client's lawn and potentially thousands in re-boring and replacement costs. We quickly and correctly diagnosed the problem and prevented future issues!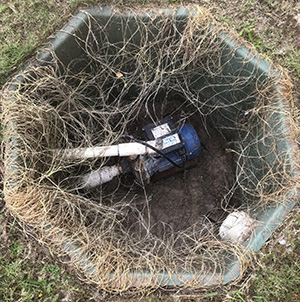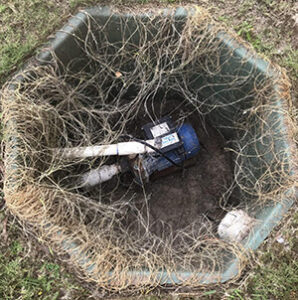 We were recently called to a property in Rockingham that was having bore pump problems. We inspected their bore pump that had not been functional for a few months. The homeowner only realised when the lawn mowing contractor said the lawn seemed to be struggling for the last few months (Even before Winter).
After our expert technician assessed the pump and system, it was found that a broken sprinkler near the bore caused the liner to fill with water, submerging the pump.
Despite being Winter, it was important to fix the bore pump problems. The pump needed to be replaced and we needed to check everything was functional.
If this pump was not replaced, it is possible that the check valve below could seize shut, and require a rebore!
This pump had not been run in a few months, so it was important to get this done ASAP.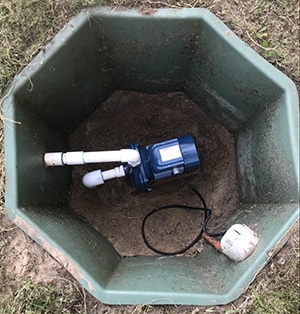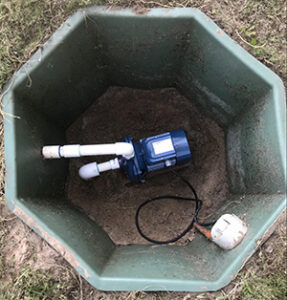 This pump is a small 1hp and single phase that is plugged into a power point – So no electrician was required for the replacement to fix this bore pump problem.
A new 1hp Pedrollo pump was installed and the customer is very pleased with the results! Her reticulation is now ready for Spring and Summer, and she is familiar with pump maintenance throughout Winter.
Are you in need of bore pump troubleshooting, maintenance or a health check before Spring?
Water Bore Problems
If you are experiencing any of the following bore problems, it's time to call in the experts.
Does your Bore:
– Run but there is no water coming through your irrigation?
– Keep tripping the RCD/power?
– Have no "prime"?
Between the pump and the underground water, there is a pipe which needs to always be filled with water – this helps "prime" the pump and get water moving. If it loses this water – the prime – the pump will suck up air which can seriously damage it.
– Will not switch on no matter what you do?
Then it's time to call in the experts.
We are experienced with Bore Repairs, Maintenance and Replacement, and can help with bore pump troubleshooting to diagnose and fix your system to prevent damage to your bore, irrigation and lawns or gardens.
If you are experiencing these or other problems with your bore pump or reticulation, please get in contact with Perth's Reticulation Experts for a prompt assessment and service.