Reticulation or irrigation controllers are the brains of the reticulation system.
These controllers send electric signals to the solenoid valves and pump (if you're on bore water) and dictate which station comes on, at what time, what days, and how long they run for.
Through research and development over the past few years, there have been many upgrades to reticulation controllers. This covers everything from durability and performance to extra features and more waterwise designs.
What to Consider When Choosing Retic Controllers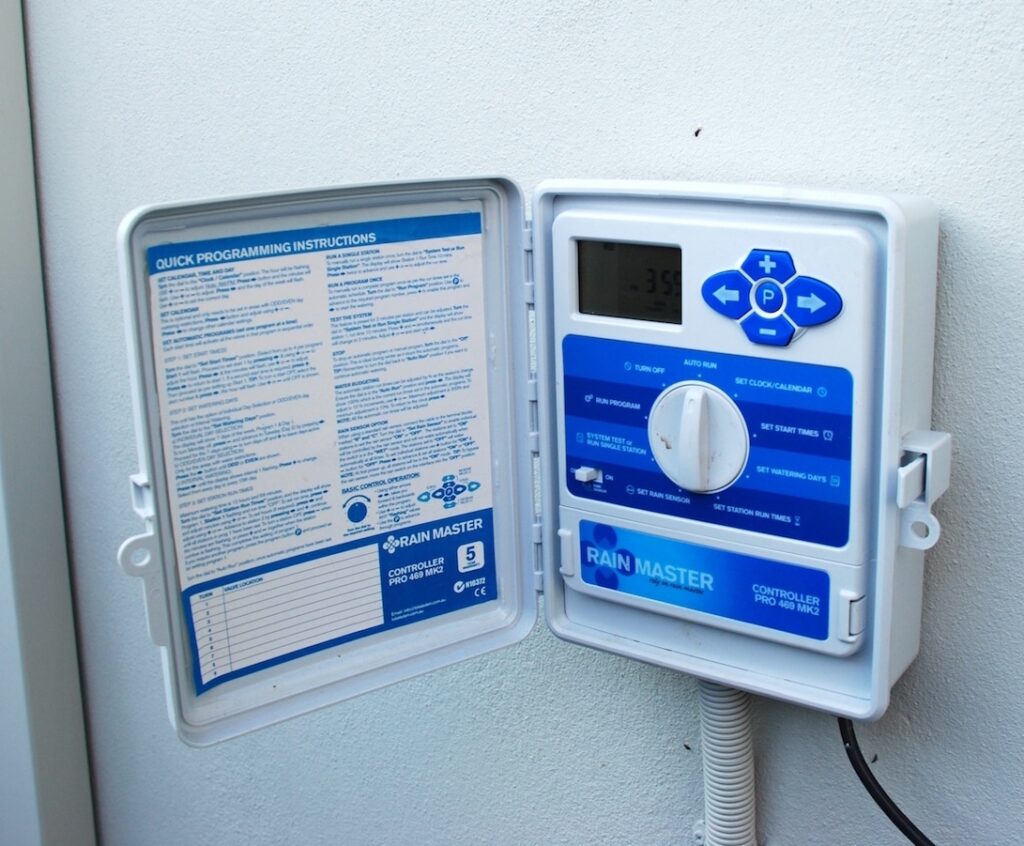 To help you choose your ideal reticulation controller you need to consider:
The complexity of your system or irrigation needs
Whether you wish to operate from your smartphone or are happy to use the controller itself
What accessories you need; ie. weather station connection, flow meter to detect leaks and how much water is applied to each station, rain sensor, soil moisture sensor, and so on…
The price of the controller
Best Irrigation Controllers
There are so many different irrigation controllers on the market, it can be challenging to choose a controller based on your system.
We have tested many of the most common products on the market, and here we share our favourite irrigation (or reticulation) controllers here at Perth Reticulation Experts. We don't use cheap, we chose products that will last and deliver the best results for our clients.
Here are some of the best irrigation controllers and the features they have to offer…
Hunter X Core
This is our first choice of irrigation controller and has been one of the most popular residential controllers on the market for many years.
Features:
Dial operated.
Non-volatile memory (Which means that even in the event of a power shut down, the controller will remember the settings)
Automatically detects electrical faults – skipping the affected stations.
Indoor and Outdoor models available.
4, 6, and 8 station models.
3 programs and up to 4 start times per program.
2-year manufacturer's warranty.
Rain Bird ESP RZXe with LNK Module
Features:
Wifi enabled – Giving you access through phone/tablet etc. from anywhere in the world.
Push buttons – Eliminating possible broken dials.
Can set to automatically adjust run times based on weather data.
4, 6, and 8 station models.
2-year manufacturer's warranty.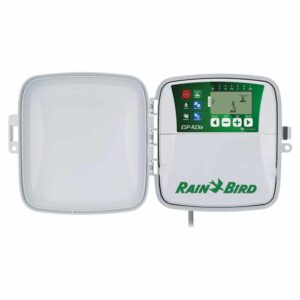 Hunter PRO-HC
Features:
Wifi enabled – Giving you access through phone/tablet etc. from anywhere in the world.
Full function controller with touch screen.
Predictive watering adjusts schedules based on temperature forecast, rainfall probability, wind and humidity to provide maximum water savings.
Can install a flow meter – Notifies you of broken pipes/sprinklers.
Indoor and outdoor models available.
6, 12, and 24 station models.
36 programs and up to 6 start times per program.
2 year manufacturer's warranty.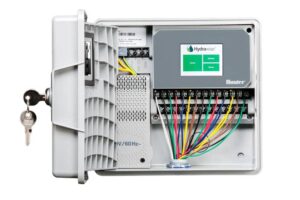 Hunter Node
Great for isolated or unpowered sites.
Features:
9V battery operated – No need for electrical connection.
Weatherproof.
Push button operated.
Requires 9V DC latching coils.
Master valve programmable.
Maximum 30m wire run length.
Can connect to solar panel – For maintenance-free operation
1, 2, 4, and 6 station models.
3 programs and up to 4 start times per program.
2-year manufacturer's warranty.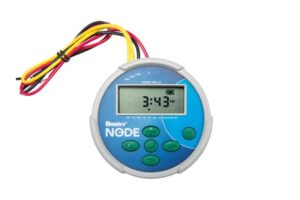 Galcon 1100BT Tap Timer
Features:
Single station tap timer.
9V battery required.
Weatherproof
Bluetooth connectivity – Just use your phone!
Easy to use and program
Up to 4 start times.
Optional rain sensor connection
12-month manufacturer's warranty.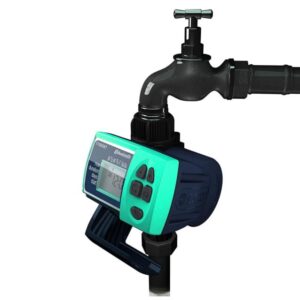 Orbit Expandable Tap Timer
Features:
Includes 2 valves and expandable up to 4 valves
Three independent start times
Watering duration from 1 to 360 minutes
Easy to use and program
Manual watering without interrupting programming
High-quality construction
Long battery life
Requires 2 AA batteries.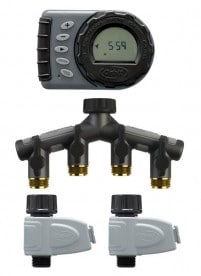 Extra reticulation controller features to consider
Rain Sensors
The main reason to install a rain sensor in addition to your irrigation controller, is so it can shut off your automatic irrigation system and NOT run when it senses rain – saving valuable water resources.
However, most rain-sensing devices must first accumulate a set amount of rainfall before a switch is activated that interrupts the circuit from the controller and shuts off the system. In that "accumulation time," the system will continue to water, making it looks like a precious resource is being wasted.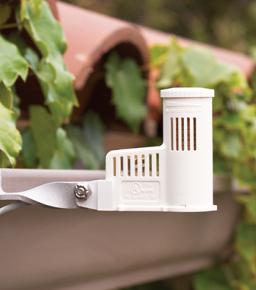 The Hunter Rain-Clik, with its unique Quick Response feature, can command a reticulation controller to shut off immediately – not after a quarter or a half-inch of rain, but the instant it starts to rain.
And, unlike any of its competitors, the Rain-Clik can be mounted in a variety of ways: on a rain gutter, on a conduit, with a telescoping extension to bring the unit away from an eave, or (the standard method) on a flat vertical surface like a wall or fence.
Hunter's Quick Response features:
Modular Mounting Options
Set a Maximum Dry-Out Period
Maintenance-free Patented Sensing Mechanism
Includes 7.6 Meters of 0.8 mm dia (20 AWG) Two-Conductor Wire
Optional Bypass Switch
5-Year Warranty
Flow Meters
Installing a Hydrawise Flow Meter is a great accessory for a reticulation system. This will show you your current water usage, as well as previous water usage, as well as receive alerts if there is any change in water use.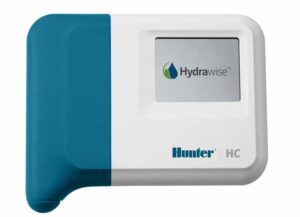 The thresholds for the alerts are configurable as a percentage of the previous watering cycle. For example, you can create an alert if the watering amount is 10% above the previous cycle, as this could indicate a broken spray head. Or you can create an alert if the watering amount is 90% less than the previous watering cycle, as this may indicate that the system is blocked or wiring is faulty.
You can also create an alert if water flow is detected when no irrigation zones are running. This may indicate that you have a broken pipe or stuck valve.
Allows for:
Flow monitoring
Instant high- and low-flow alerts
Leak detection
Water outage during irrigation
Total water use reporting
Zone water use reporting
Features:
Flow meter connects to Hydrawise™ ready controllers and Hydrawise software
Shows total water use by zone
Monitors the system to alert for high- and low-flow conditions
Dial allows for manual recording at the meter in m3
Meters are factory calibrated
Two-wire read-based pulse output
Electrical connection – 2 dedicated wires in shielded cable
Accuracy – 2% (+ or -) at recommended flow
Material: Brass body with PVC reading cap
---
While there are plenty of good quality reticulation controllers in this list, it all depends on your property and the needs of your landscape as to which is best for you.
Do you already favourite reticulation controllers? Tell us what it is in the comments.
Need some help choosing and installing the right irrigation controller for your system?
Call our irrigation experts today – we'd be happy to help.