This article will explore everything you need to know about reticulation installation in Perth. We understand that life is more than just maintaining a garden, and that the average person might not have the luxury of time to take care of their garden at the level it requires. Maintaining a flourishing garden is no joke – it needs to be watered and taken care of regularly. 
Installing a lawn reticulation system is one solution to successful landscape maintenance. When we refer to reticulation, we are talking about an underground network of pipes that distribute water around your garden automatically. These systems are designed to not only save up time but also be an efficient tool to help distribute water as efficiently as possible.
This retic installation guide will discuss the details of installing a reticulation system. It's our aim to equip you with the right knowledge before making a decision on whom to trust your reticulation needs with.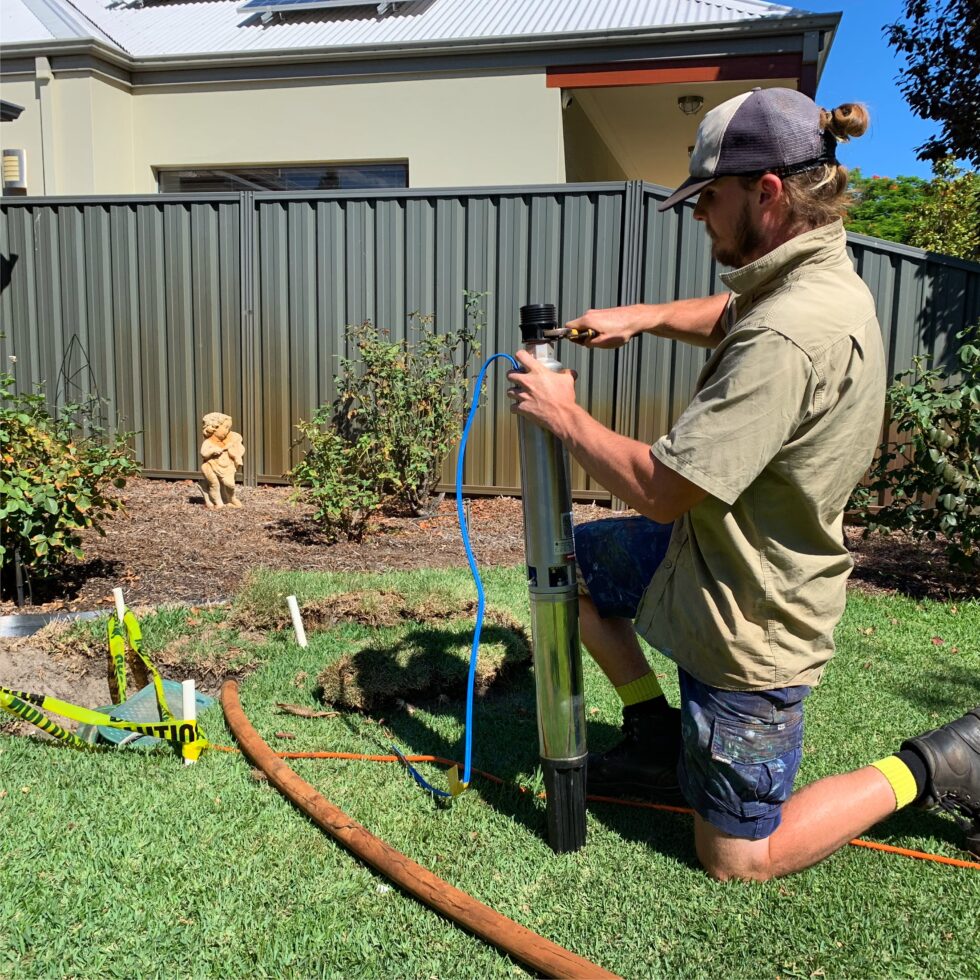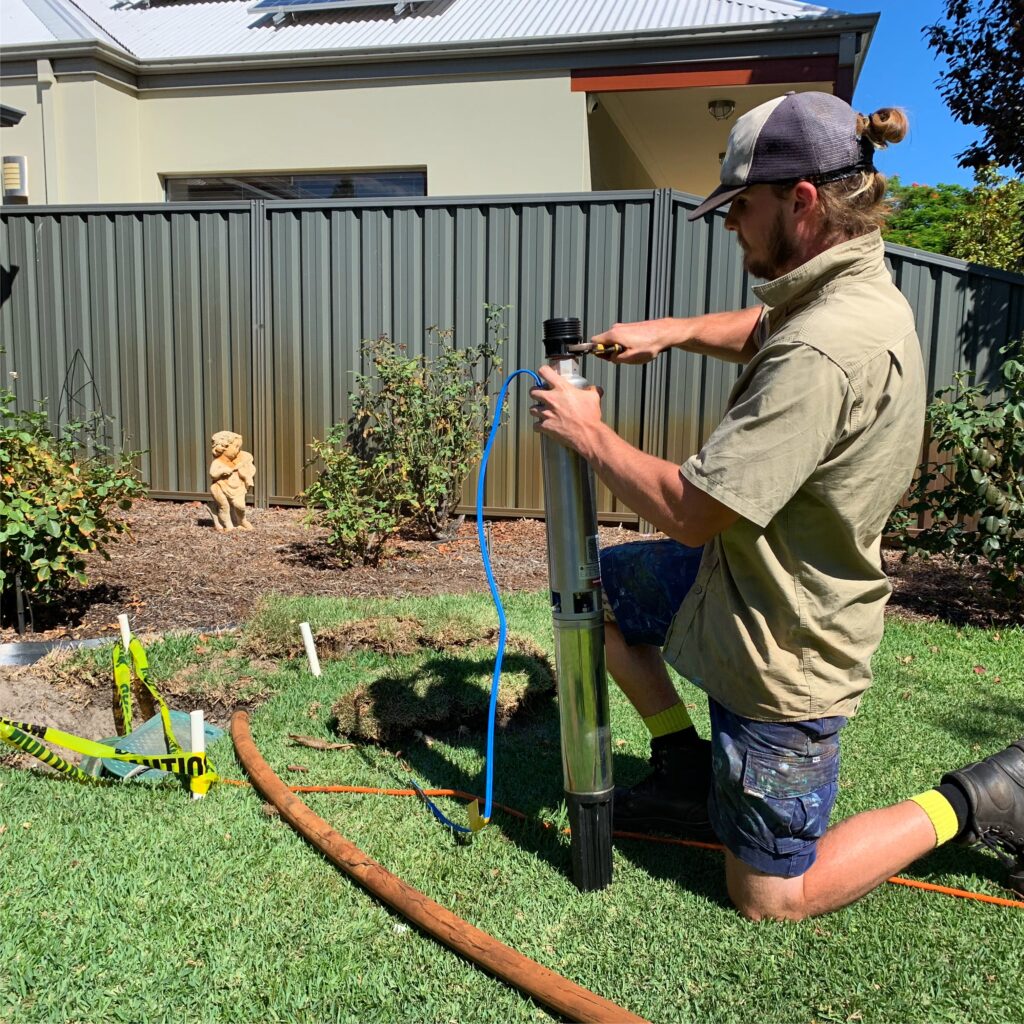 Why Hire A Reticulation Installation Service in Perth?
Hiring a reticulation installation service for a new or existing property is one of the most valuable investments a property owner can make, with regards to caring for their lawn and garden overall. Our Perth Reticulation Experts are qualified and certified to both design and install simple or complex  systems.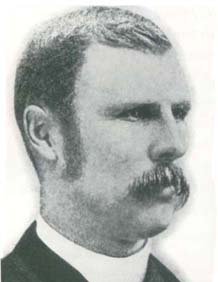 "Much of the success of irrigation at Etiwanda and Ontario was due to the use of cement pipes in the main water channels." [1]

 William Benjamin Chaffey (Australian Dictionary of Biography)
Below are some of the benefits we believe every homeowner should consider, when thinking about sprinkler systems for their property.
Convenience 
Manually watering your lawn is difficult, time-consuming, and cumbersome. Additionally, not many people enjoy this tedious task in the Australian heat, at the regulated watering hours each day, nor do they have the time for it. Automated irrigation systems with programmable watering schedules offer homeowners peace of mind that technology is looking after an important part of keeping their garden healthy on a regular basis.
Adds Value to Your Property
In addition to consistently hydrating your plants, a reticulation system has the potential to increase a  property's resale value. A well-designed retic system is not only an attractive feature that most buyers are looking for in homes, but it also improves your landscape potential of the property, which in turn justifies greater value from prospective buyers.
Water-Saving Benefits
It can be hard to believe, but with proper coverage and system, a reticulation installation in Perth can help save a lot of water. As a scarce utility, the water corporation of Perth, governs its use and defines a specific schedule of when it can be used.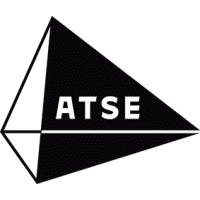 "The concurrent increase in the assessment of the country's water resources indicated that there were significant limits to the exploitation of these resources. All these factors pointed to the need for measuring the volumes of water delivered to individual farms." [2]

Australian Academy of Technological Sciences and Engineering
A Waterwise reticulation system in your yard is one of the best ways to conserve water. One key feature is avoiding over-spraying. This type of retic system is designed  to deliver just the right amount of water to your garden during optimal times of the day, you can easily avoid any loss of water due to evaporation. According to the Water Corporation, the ideal time to water a garden is after dawn and before the full sunlight shines in the early morning hours. This allows more time for the soil to absorb the water before the mid-morning heat kicks in and hardens the ground's surface. 
Cost Savings
Installing a lawn reticulation system might seem expensive at first but the amount of money it saves you in the long-term makes it an investment worth considering. Effective and efficient irrigation ensures that the right amount of water needed for every part of the garden is supplied without wastage.
Installing a reticulation system requires knowledge and experience. Although installing a sprinkler system by yourself will lower the costs of installations, there are several other factors in the long run that may end up costing you more, such as maintenance and repair costs. There are numerous DIY kits out there that offer simple systems, but typically we find that the quality of materials provided deteriorate faster and cause more problems. A retic expert in Perth, with the required tools and expertise can help you install a reticulation setup that is both durable and reliable. 
Choosing a registered and certified reticulation installation company in Perth offers a smooth, simple, and transparent process. At Perth Reticulation Experts, we perform the necessary due diligence required for any lawn, pulling from our knowledge and experience with reticulation installations across Perth city and suburbs
Based on your property's plumbing, electrical system, water supply, and size, our services are tailored to fit your property's needs. Our clients are our top priority as we install long-lasting, high-quality reticulation systems with great attention to detail and the best possible workmanship in Perth.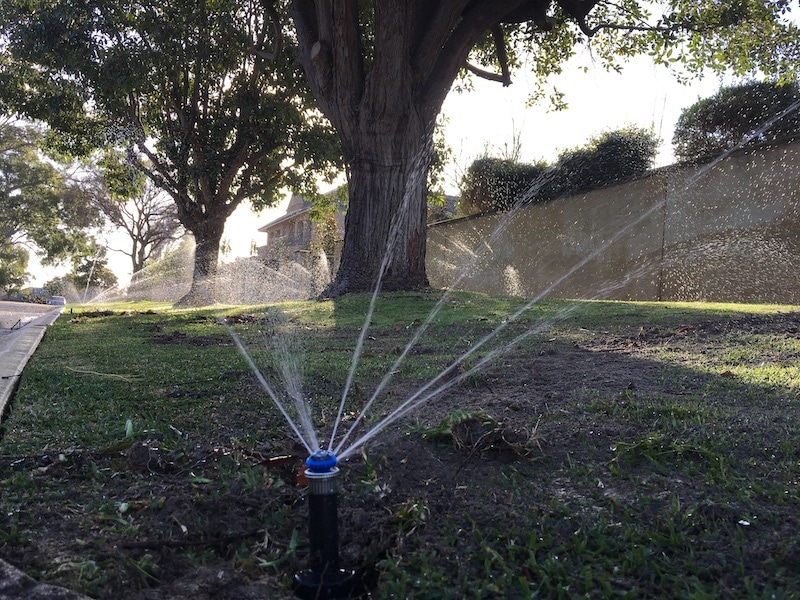 Sprinkler Systems We Typically Install
Once the decision is made to move ahead with installing a lawn reticulation system, the next stage is to choose what kind of arrangement is required. There are a variety of system steups available and the final installation will depend on your individual needs. Below are some examples of typical system set ups you can expect to choose from:
Water Conserving Sprinklers
Standard sprinkler systems are designed to reduce the total quantity of water used in each spray for a healthy, attractive, and environmentally-sustainable garden.
Rain Sensors and Weather-controlled Irrigation Systems
The latest innovation in reticulation systems is designed to adjust the amount of water delivered to your garden according to weather conditions and satellite data. Based on weather forecasts and local weather history, watering is fine-tuned by this automated retic system, which helps conserve a significant amount of water. A weather monitoring smart controller also automatically shuts the water supply off when the rain sensor senses rain and resumes watering after the rain stops. 
Different from conventional sprinkler heads and sprays, these modern sprinkle nozzles are designed for precise watering to minimise water wastage. These sprinklers spray water in multiple trajectories while also revolving to ensure that water is delivered slowly and more effectively, when compared to standard pop-up sprinkler heads. Water jetting from these types of nozzles is also more resilient to the effects of wind and has a lesser likelihood of misting.
Micro-stream Drippers and Shrubblers
Ideal for watering large shrubs or lawns, these pressure-compensated systems maintain the flow rate of the water to allow for uniform watering directly to the roots of your plants. The procedure allows water to drip either above or below the soil near the roots. This saves water by minimising evaporation that may occur in surface irrigation systems. Pressure in these drippers can be adjusted to vary the flow rate and the amount of water delivered.
An irrigation controller is a modern device that is used to control the frequency of irrigation, watering schedule, and duration of the irrigation process. These are the basic features of an irrigation controller, but different irrigation controllers may also have additional features such as customised watering frequencies for different plants and remote access to manage and monitor your controller from your mobile phone.
Whether it is a battery-operated, solar-powered, manual, or automatic garden reticulation system that you are looking for, Perth Reticulation Experts is your destination for top-quality, professional reticulation installations. 
Finding the Right Irrigation System
While there are several irrigation systems for you to choose from, not every irrigation system is suited to every type of lawn. A number of factors have to be considered before choosing the right system for your landscape.
Below are some of the factors to consider when choosing an irrigation system for your property. 
Type of soil on your lawn: Sandy soils usually need watering frequently to maintain the moisture in the plant's roots, whereas muddy clay soils tend to hold moisture for longer. Thus, this type of soil requires less frequent watering and at a slower rate.
Location and landscape feature: For sloping or hilly landscapes, drip and rotary irrigation systems work well, whereas other systems like a centre pivot system work only on flat land. Underground water pipelines also play a key role in determining what type of system should be installed.
Weather conditions: Windy areas are not ideal for the installation of sprinklers, instead a drip irrigation system would be more suitable as it would prevent water loss through misting..
Location of sprinkler heads: Sprinkler heads need to be installed in specific zones to ensure equal delivery of water and to avoid spotty growth.
When installing an irrigation system, a lot of deliberation and comprehensive planning goes into selecting the right arrangement.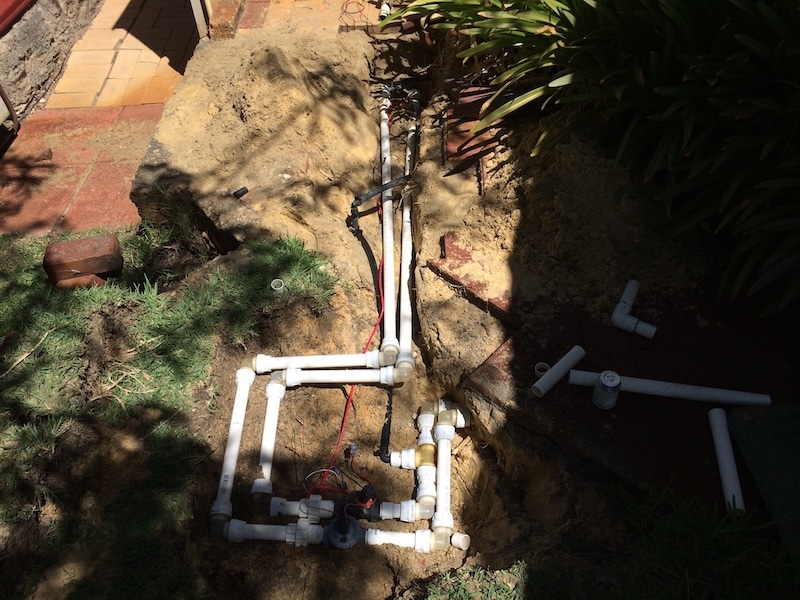 New Reticulation Installations
After deciding which type of reticulation system will be installed within the property, the planning and then installation process is to follow. Educating our customers on the entire process helps us plan a schedule and arm clients with insight on what to expect, throughout every step of the way. A typical retic installation can be divided into four key stages: 
Stage 1: Pre-installation Professional Site Assessment
Before we can actually break the ground and start digging, our experts will visit your site on a scheduled visit to assess the conditions and water pressure on your property. Based on this evaluation, we will provide a timeline and quotation based on your landscape goals and budget.
Stage 2: Irrigation Design Proposition 
Following the site visit from our expert reticulation technician, we will draft a proposal for the retic system. This proposal will include a modelled layout and plans for your soon-to-be-installed irrigation setup. Rest assured, no construction will proceed further without your approval.
Stage 3: Irrigation System Installation 
Once approved, we will begin the installation process on your property. The process will begin by first accessing the water lines and then digging the trench to install the solenoid valve manifold. This procedure will be followed by the installation of the PVC pipes underground. Once the pipes are laid down, we can install the sprinkler heads and the irrigation controller. 
Stage 4: Post-irrigation
Once the different elements are connected to the main water source, the ground will be covered up and necessary repairs are made to your lawn. Our experts will leave you with advice on how to take care of your garden post-installation, and return it back to full health.
Frequently Asked Questions
How much does it typically cost to install irrigation on 1 acre?
It typically costs to install irrigation on a 1-acre property between $6,000 – $10,000. However, this cost will vary based on a number of factors, including:
Systems chosen
Labour required
Quality of materials
Type of landscape
The slope of the lawn
Local permits required
Number of sprinklers required
Type of soil that needs to be excavated
What is the average cost for installing a drip irrigation system?
The average cost for installing a drip irrigation system is between $2000 – $4000 per acre of land. This cost will change based on the size of your garden, any custom designs you wish to add, and the factors mentioned previously.
Does a sprinkler system add value to a home?
A sprinkler system can add significant value to the price of your home, especially in warmer climates like Perth, because the appeal for a sprinkler system is much greater than manually completing the work. An irrigation system can enhance a home's appeal and help a homeowner to conserve water.
How long does it take to install a sprinkler system?
The average time taken to install a sprinkler system is between 2 days to 2 weeks.  However, it may take more time depending upon the size of the project and a client's various requirements. Retic installation pre-existing landscapes require more time for installation, compared to a new build, because they have to be excavated carefully to avoid damaging the roots of the plants or utility lines.
What areas do you cover?
Perth Reticulation Experts cover Perth city and surrounding suburbs such as Bassendean, Bayswater, Belmont, Cambridge, Canning, Claremont, Cockburn, Cottesloe, East Fremantle, Fremantle, Gosnells,,, Melville, Mosman Park,, Nedlands, Peppermint Grove, Perth,, South Perth, Stirling, Subiaco, Swan and Victoria Park. If you live outside of these areas, feel free to get in touch with us and we will try to accommodate you.
When is the best time to install an irrigation system?
The best time to install an irrigation system is in the winter months. The autumn weather is ideal for softening the ground, and making the labour less intensive. Installations during the summer requires more energy as our team will have to dig through tougher, dryer soil.
What Other Services Do We Offer?
In addition to reticulation installation in Perth, we offer reticulation repair and overhaul services, irrigation system upgrades and extensions, water bore installation and repairs, and turf irrigation system installations. Our services are available for both commercial and residential projects. Our award winning team is trained to the highest standards of craftsmanship and our reputation speaks for itself. Contact us today and speak with a member of our friendly team who is alway ready to answer your questions. 
References
Peter Westcott. Chaffey, William Benjamin (1856–1926) – https://adb.anu.edu.au/biography/chaffey-william-benjamin-5619
Australian Academy of Technological Sciences and Engineering. Measuring farm supplies – the Dethridge wheel. – https://www.austehc.unimelb.edu.au/tia/157.html