Reticulation Repairs in Mandurah
We service the entire Mandurah area, providing expert irrigation and reticulation repairs, servicing, and maintenance. 
Need reticulation system repairs in Mandurah?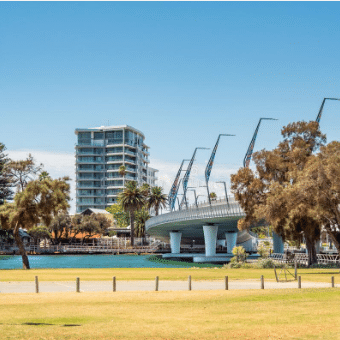 Book The Local Retic Experts
Whether your retic just won't turn on, your controller has given up the ghost or your water pressure has gone – if it's a reticulation system issue, we can handle it.
Our expert reticulation technicians can:
locate solenoid values
fix water pressure issues
repair leaking pipes
replace or add sprinklers
repair/replace valves
fix or replace controllers
and more
No matter how tricky the fix, our technicians can handle it and leave your system working effectively for you.

Irrigation and Reticulation Repair & Servicing Fees
We charge a $150 call-out fee which includes the first 15-mins on site, then it is $35 every 15-minutes after this. 
This covers the labour of an experienced Reticulation Technician, equipped with all tools and equipment required for your service.
Replacement parts are charged additionally as required.
Specialist equipment (trenchers, solenoid trackers, etc.) will be charged additionally if required to expedite your work.   
PLEASE NOTE: We cannot quote on repairs due to the nature of the work, so please let us know at the time of booking if you would like to set a budget cap on the works (e.g. maximum 2-hrs onsite), otherwise our technicians will simply keep working until your system is repaired and working perfectly for you!
Expert Reticulation Services
You can be confident that our technicians know what they are doing and come fully equipped to complete most reticulation repairs and even system extensions to improve water coverage on the spot. 
Friendly, knowledgeable, and honest, they'll make sure that your system is working better than ever.
If it's a bigger job than anticipated, or our technicians identify a way that we can improve things in the long run, we'll provide a no-obligation quote to complete any additional work needed.  
You don't need to be home for your service – but if you are, they are happy to answer your questions and explain what's going on. Just ask!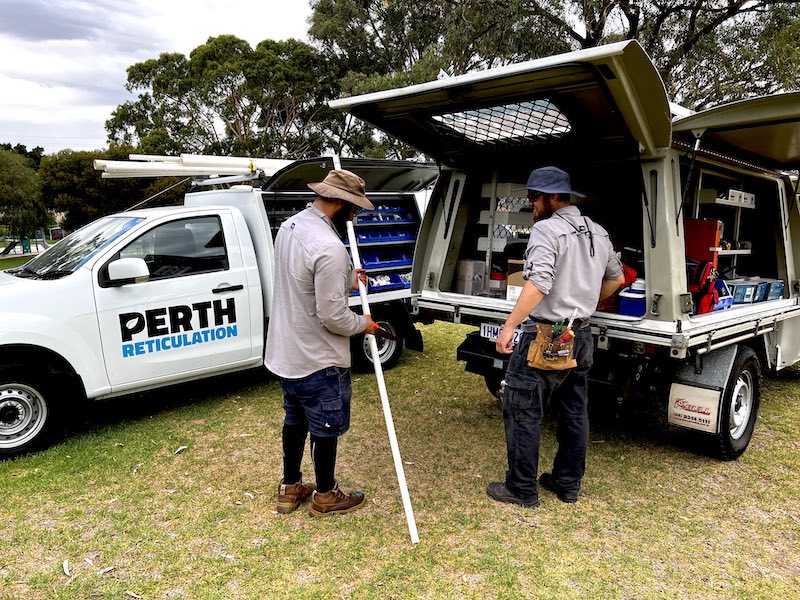 Reticulation Repair & Servicing FAQs
Where do you provide Reticulation repairs in Mandurah?
We provide reticulation services to the whole Mandurah area, from Dawesville to Falcon and Mandurah city – all the way up to Secret Harbour, Port Kennedy, and Rockingham. 
Just give us a call if you aren't sure you are in our Mandurah service area – we'll always try to help you out if we can!
What types of reticulation repairs can you do?
From standard repairs such as leaks in your reticulation system, a controller that suddenly stopped working or a station that won't turn off, to sprinkler heads that need to be replaced, we can handle all types of reticulation system repairs. 
Alongside repairs we can also provide:
System general health checks to make sure your reticulation system is in good shape

System optimisations; from extensions to cover additional areas or reworking your system to improve coverage

System diagnosis; have an issue that no one has been able to figure out or repair? That's where Perth Reticulation Experts specialises. 
In short, if it's reticulation-related, we can take care of it for you. 
Can you repair commercial reticulation systems or just residential systems?
It doesn't matter whether your system has 4 stations or 100, we can repair, service and maintain all types of irrigation systems. Just let us know at the time of booking if you have a larger system/property so we can send out 2 technicians and make the service much more efficient and cost-effective for you. 
Can you diagnose reticulation system faults if I don't know what is wrong?
We specialise in it! While you might see a symptom (this part isn't working, my system won't turn on, there is a leak, etc.), our team will test, assess, diagnose and then repair – whatever the issue really is.
Quite often, once we have fixed a leak and restored pressure to the system, it then allows us to see other issues and we can fix them on the spot for you as well – we won't just fix the one problem and then leave the rest to you! Sometimes a leak might be a solenoid valve that doesn't close properly, or it might be a bigger pump/system issue – we will always look for the root cause and do our best to fix it so it doesn't happen again.  
Can you locate my solenoids?
Absolutely. We are one of the few reticulation companies in Perth that are equipped with specialised solenoid locator equipment and our technicians are trained on how to use them effectively.
This means that what might take another company half a day or more to do manually, can take our team just hours, sometimes less. This significantly reduces the cost to you and the team can spend more time actually working on your system instead of searching for parts of it!
We can also provide you with a professionally drawn up plan of your system for future repairs, or mark the locations on your property plans if provided. 
What if I don't know if my reticulation system can be fixed or needs to be totally replaced?
That's ok, our expert reticulation technicians will figure that out for you. Just let us know if you are unsure at the time of booking and we'll make sure the technician knows to repair it on the spot if that is possible/the best option, or assess and provide a quote for a new system if that is the better option.
We don't like putting bandaids on if a long-term solution is required. Our guys will let you know what they recommend – which sometimes might be putting a few bandaids on to get you through summer, and then we use the winter turn-off time to overhaul your system so it's ready to get you through many more summers to come.
What types of parts do you use to repair systems?
We source all our parts and equipment from specialised irrigation and reticulation suppliers and trusted reticulation brands – we won't be fixing your system using anything from Bunnings!
While they may add a little bit more to the initial cost, they will do their job better and last much longer than cheaper alternatives – we know because we've used both and seen the results ourselves. Quality always wins in both performance and value for money in the long run. 
Will I need to be home when the technician is here?
As long as there are no dogs on the property and you are able to leave access to the property open, along with access to the water main/controller etc. then our technicians will be able to attend and do the work required without you being there – not a problem.
Whatever notes you can give us over the phone while completing your booking are more than enough for our experts to then do their own assessment, identify the issue and get it fixed for you.  
Will I be charged if the reticulation technician needs to go buy parts during my service?
Our technicians come out to you in fully-equipped vehicles that are stocked with all the parts and materials required for the majority of our services – so they can get straight to work until the repairs are completed.
In the unlikely cases that they need something specific, it is usually for a larger, more complex repair and we can provide a quote to come back and complete the repairs once we have sourced the parts required. This doesn't happen very often, 9 times out of 10 you'll have your system repaired and back up and running on the spot.
For a reliable system – you need the experts
Experienced Technicians | Fully Insured | Waterwise Solutions